27/09/2012-06/01/2013.
AT OUR NORTH CROSS ROAD SITE
Open Thursday to Sunday 12pm to 6 pm
65 North Cross Road
London SE22 9ET
Rail: East Dulwich
Bus: 484, 197, 176, 185, 40,37, P13, 12.
Opening hours
Thursday to Sunday
11am to 6pm.
CMT continue their residency as guest exhibitors at Space Station Sixty-Five in East Dulwich.
(65 North Cross Road, East Dulwich, London, SE22 9ET)
A free exhibition (apart from a few coin-operated machines) of automata from the Cabaret Mechanical Theatre, which between 1985 and 2000 resided in a hugely popular exhibition space in Covent Garden.
This exhibition of push button exhibits, includes many of Paul Spooner's early works, including his voluptuous Manet's Olympia and one of his larger works The Dream, in which a strange scenario unfolds in a tiny bedroom, powered by bellows and cranks.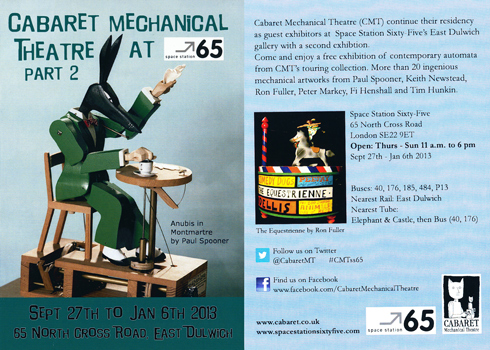 FREE – suitable for all ages.